The consortium is well balanced and it is composed by 15 partners from 7 countries.
The consortium unifies the interested partners targeted in RIS­-ALiCE, including waste holders and mineral end users. Besides Knowledge and Innovation Community (KIC) members (core and associate KIC partners) from Slovenia, Hungary, Austria and France, the consortium involves also non-EIT members i.e. task partners from ESEE region (Bosnia and Herzegovina, Serbia and Macedonia), tackling RIS objectives to include new non­partners in the activities. This will help to reach pan-European coverage, as aimed by the EIT Raw Materials.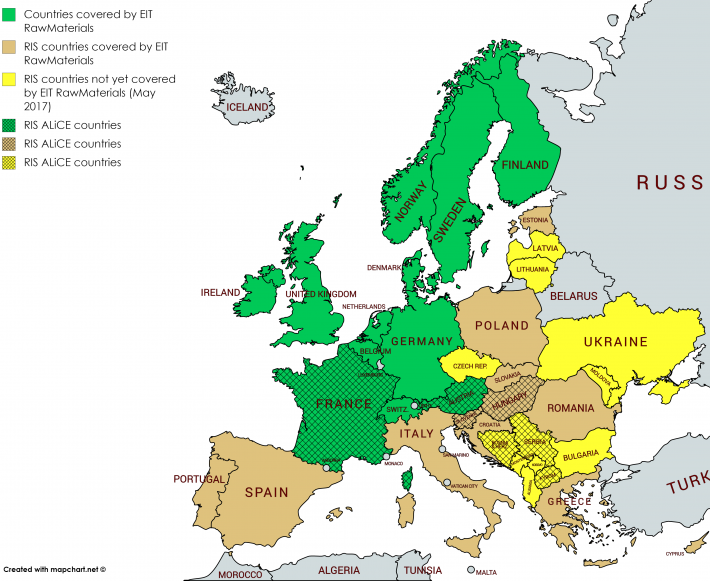 Each partner has his specific and distinctive role in the project. Slovenian National Building and Civil Engineering Institute (ZAG) is a project coordinator which has a very large experience in different range of recycling activities. Transfer of good practices in valorisation of waste and secondary raw materials is assured by French Atomic Energy and Alternative Energy Commission (CEA) and Vienna University of Technology (TU WIEN). With geological knowledge of Al­rich primary materials Geological Survey of Slovenia (GeoZS) will assist in creation and launching of a RIS-­ALiCE registry. The latter will be developed with main input from Lucis d.o.o (Lucis). RTOs and Academia partners University of Zenica Institute "Kemal Kapetanović" (UNZE-IKK), Bay Zoltan Nonprofit Ltd (BZN), Vinča Institute of Nuclear Sciences University of Belgrade (VINS), and Faculty of Technology and Metallurgy Ss Cyril and Methodius University in Skopje (FTM-­UKIM) with participation in networking and educational activities will haven important role by interlinking local stakeholders. The consortium embraces the industry partners from mineral material providers (waste holders/producers – SIJ ACRONI d.o.o. (SIJ), Agrego Halas Kft. (Agrego), Šoštanj Thermal Power Plant (TEŠ), JSC ELEM-Skopje (ELEM) and mineral­ end user sides (Salonit Anhovo d.d.o. (SA) and Cementarnica Usje AD (USJE)).
In order to achieve the objectives of the RIS-­ALiCE project, a multidisciplinary and complementary consortium has been built, consisted of partners from the three sides of the knowledge triangle (Research and Technology Organisations (RTO), Academia and Industry).
Consortium:
Coordinator:
Partners:
Task partners:
Letters of support
- Ministry of Economic Development and Technology, Slovenia
- Ministry of the Environment and Spatial Planning, Slovenia
- Economic chamber of Macedonia
- Chamber of Commerce and Industry Slovenia
- Chamber of Commerce and Industry of Štajerska, Slovenia
- NanoCEM: The Industrial-Academic Nanoscience Research Network for Sustainable Cement and Concrete
- CEMBUREAU: The European Cement Association
- Natron-Hayt d.o.o., Bosnia and Hercegovina
- TITAN cement plant Kosjerić, Serbia
- Cement plant Lukavac, Bosnia and Hercegovina