/

/

International workshop RIS-ALiCE: Registry of secondary mineral resources for the production of low-carbon cements
International workshop RIS-ALiCE: Registry of secondary mineral resources for the production of low-carbon cements
On February 26, 2021 the International Registry Workshop was organized in an on-line form. The organization team was Ss. Cyril and Methodius University (Faculty of Technology and Metallurgy) in Skopje, Slovenian National Building and Civil Engineering Institute and Geological Survey of Slovenia. The topic of the workshop was the circular economy and sustainable management of secondary mineral raw materials for their use in the production of low-carbon cements, as well as strategies and solutions that can fast track decarbonisation in the cement industry.
Developed registry of Al-containing industrial and mining residues (https://alice- registry.eu/) with the data valuable for both, waste providers as waste users in East & South-East Europe region was introduced.
The speakers at the workshop were: Prof. Karen Scrivener (EPFL - Swiss Federal Institute of Technology Lausanne, Switzerland), Mr. Nikos Nikolakakos (CEMBUREAU - The European Cement Association, Belgium), Mr. Robert McQuillan (LafargeHolcim-Geocycle, France), Dr. Sabina Dolenec (ZAG- Slovenian National Building and Civil Engineering Institute, Slovenia), Dr. Gorazd Žibret (GeoZS – Geological Survey of Slovenia, Slovenia), Mr. Stéphane Pepin (Federal Agency for Nuclear Control Section "Surveillance of the Territory and Natural Radiation", Belgium), Prof. Konstantin Kovler (Technion – Israel Institute of Technology, Israel), Dr. Efhtymios Balomenos (Research and Sustainable Development, MYTILINEOS – Metallurgy BU, Greece).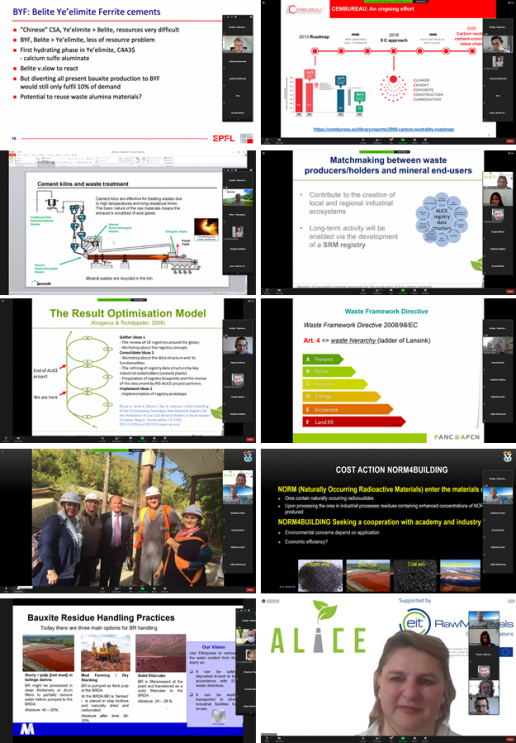 Figure 1: Photos from the event.